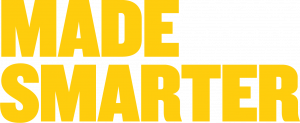 The HEY Growth Hub is encouraging manufacturers in Hull and East Yorkshire to express their interest in the Made Smarter: Yorkshire programme before its full launch later this year. Operated on a pilot basis in 2021/22, Made Smarter: Yorkshire has recently been given a three-year funding settlement by Government to support digital technology adoption in Yorkshire, leading the transition to so called "Industry 4.0." in doing so.
Replicating the successful aspects of the pilot programme, Made Smarter: Yorkshire will offer specialist diagnostics, expert technical advice, and grant funding to help manufacturers explore, adopt and implement digital solutions to aid business growth. Delivery of Made Smarter in Hull and East Yorkshire builds on the success of other HEY LEP digital initiatives such as the Local Digital Skills Partnership and the Growth Hub's ICT for Growth scheme, and also aids the objectives of the recently unveiled HEY LEP Economic Growth & Workforce Wellbeing Strategy which places much emphasis on digital skills, digital infrastructure and digital support for businesses.
The successful Made Smarter pilot programme supported over 130 manufacturers to explore digital solutions, awarded £160,000 of grant funding and put 32 business owners and managers through a specialist leadership & management development programme. In addition, 15 digital internships were undertaken as part of the pilot programme to give businesses some extra technical know-how with larger digital adoption projects.
HEY Growth Hub Manager Jon Brunton said "Made Smarter is an exciting new programme that's tailor made for those manufacturing businesses that would benefit from adopting digital technology to transform their business operations to enable growth, but that don't know where to start. The 2021/22 pilot was a huge success and we have already seen some fascinating case studies of businesses that took advantage of the pilot to progress their digitalisation activities. The newly announced 2022-25 Made Smarter Programme will launch later this summer, and by submitting an EOI now Hull and East Yorkshire manufacturers will be the first to hear once the programme has launched and the support is available to access".
For more information and to express your interest, please visit the Made Smarter website here: https://www.madesmarter.uk/adoption/in-my-region/yorkshire-the-humber/