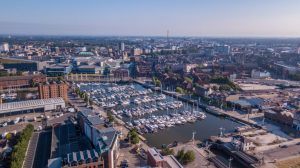 Connected Places Catapult's Innovation Hub: Hull will bring together entrepreneurs, start-up founders and SME leaders next month to discover and discuss the support available for starting and growing businesses in the region.
The event at C4DI will explore key barriers to growth including; securing sustainable and flexible funding, attracting staff with the right skills and finding workspaces that can grow with your team and ambition.
Presentations and panels from local leaders, business growth support services and Hull's diverse and inspiring innovative business community will help attendees understand the many ways to support their growth and thrive in the region.
Our Innovation Hub additionally offers a chance to connect with local leaders and other people growing their business over a networking lunch, an opportunity discuss in depth the support and networks currently available in Hull and to help steer its future development.
Hull is one of their three pathfinder cities (along with Aberdeen and Portsmouth) that the Connected Places Catapult are hoping to use as a best practice model going forwards.
They wish to map the local ecosystem in these pathfinder cities, to understand where there are pockets of innovation and collaboration activity.
For example, knowledge base & IP activity (universities), supply chain activity, digital transformation (C4Di, Edge Hub) etc.
For the event on Tuesday 4th July, HEY LEP Growth Hub Manager Jon Brunton will join a discussion panel about the current and future opportunities for SMEs to Scale-Up and to also talk about the support available to firms and also some of the key barriers to Scale-Up growth.
There will also be panellists from Innovate UK and also the new EDGE Hub in Hull. Hull City Council's assistant director for economic development and regeneration, Alex Codd, will open the event.
Tickets are available here: https://cp.catapult.org.uk/event/connected-places-innovation-hub-hull/