The food and drink sector in the Yorkshire and Humber region is rich and varied, with lots of exciting brands and thriving manufacturers. The area is home to many nationally and internationally recognised brands that are capitalising on the opportunities international trade can bring.
The requirements for expert advice and support in Hull and East Yorkshire are as diverse as the food and drink landscape itself and as an international Trade Adviser for the Department for International Trade (DIT) in Yorkshire and the Humber, Stephen Noblett has many years of experience working with businesses of all sizes, helping them to scale up and realise opportunities in markets around the world. Stephen is able to offer companies impartial advice and also recommend DIT services, many of which are free of charge.
Stephen attends various events across the region each year, including the Great Yorkshire Show in Harrogate and the Driffield Show. Commenting on the Great Yorkshire Show, Stephen said, "I went to the Great Yorkshire Show in Harrogate in July, catching up with established and new exporters. It was great to see the food and drink industry being out and about again after a tumultuous year and I spoke to them about the challenges they are facing as well as the opportunities in new high growth markets we can help them take advantage of."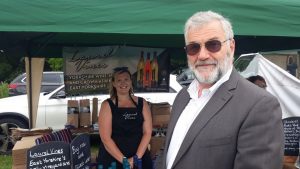 Stephen pictured with Yorkshire wine producer, Laurel Vines, at the Driffield Show
No matter if you are new to exporting, have taken your first steps by sending orders to international customers or are looking to grow further afield, DIT can help you along the way and offers capability-building workshops, such as the Export Academy, Trade Missions, Funding (eligibility criteria apply), introductions to contacts in our overseas offices and embassies, and impartial advice. So, no matter where you are in your export journey, get in touch today and let DIT help you grow your business internationally.
Connect with Stephen on LinkedIn