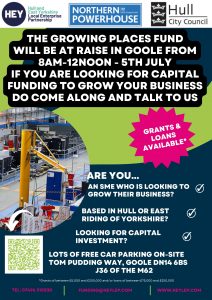 We are delighted to announce that the Hull and East Yorkshire Local Enterprise Partnership (HEY LEP) is providing SMEs based in Hull and East Yorkshire the opportunity to learn more about grants and loans available to them.
The Growing Places Capital Funding Investment Programme Team will be at RaisE Business Centre, in Goole, from 8am – 12noon  on Wednesday 5th July.
If you are looking for capital investment to help your business to grow, come along and have a chat with the Investment Programme Team.
Grants and/loans up to £250,000 are available to Hull and East Riding SMEs.
The event will take place from 8am to noon and there is plenty of free parking on-site at RaisE Business Centre on Tom Pudding Way, Goole, DN14 6BS. The event will also include a separate workshop demystifying and simplifying how to complete your application pack.
We are also delighted that Leon McQuade from Think Cloud will be giving a talk about AI in business – if you've never done the Marshmallow Challenge do come along. I can guarantee that you will go away fascinated by his talk and have a little fun along the way. We will be joined by Les Selby from the Made Smarter Team and Andrew Hewitt from the Property Activation Fund (PAF).  PAF is a part of the Government's Towns Fund designed to level up, transform, and regenerate failing Town Centres and is one of eight significant projects for Goole. There will also be members of the ERYC & HullCC Growth Hub Advisors available. Along with a representative from Innovate UK Edge, who support high growth potential businesses that are developing innovative new product/service offerings with coaching support that considers strategy, leadership, Intellectual Property,  grants/investor readiness, inter-nationalisation, ecosystem connections and more. Funded by Innovate UK, we work with leadership teams to help them address their innovation challenges and help them to achieve higher growth.
It promises to be an 'action-packed' morning and we look forward to your company.
For further information please contact funding@heylep.com or call 07496 315038. We are always happy to help.
Please book your ticket via: