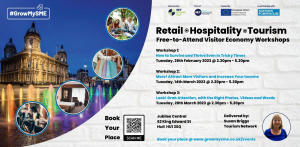 With the British economy remaining turbulent and the spending power of the public reduced, leisure, retail and hospitality businesses are having to work harder than ever to generate sales.
The advent of higher energy bills, wages and stock costs have also placed a higher burden on the turnover of small businesses.
For small businesses that rely on tourists and visitors for part or all of their income, this challenge is keenly felt.
That's why the Hull and East Yorkshire (HEY) Growth Hub is offering fully-funded workshops delivered by experts from The Tourism Network in Hull this spring.
Taking place fortnightly on Tuesday afternoons between 28th February and 28th March at Jubilee Central on King Edward Street in Hull, these free-to-attend sessions will help business owners take a fresh look at how to navigate their business though challenging economic times.
Running from 2:30-5:30pm, these sessions will also provide a useful networking opportunity for small businesses.
The first workshop on Tuesday 28th February will explore how small businesses can survive and still thrive, even in tricky times.
This upbeat and practical workshop will offer lessons in improving marketing, as well as demonstrating how to grab the attention of potential visitors, through tough trading periods.
The session will provide fresh ideas and help delegates prepare a clear action list to help them feel more confident about the future.
On Tuesday 14th March, delegates will examine how small businesses can attract more visitors and increase income.
This session will focus on the skills needed to attract – and more importantly retain – new visitors, as well as exploring how to discover new markets and customer groups and how to offer services to meet their requirements.
The final workshop on 28th March will focus on how photos and videos can transform the marketing of a business in the visitor economy.
This highly practical workshop will advise delegates on how to select and use impactful images, films and words to grab attention and promote the business, whilst improving social media, websites and other promotional activity at the same time.
These workshops build on the success of the Visitor Economy support that has been running since 2021.
The HEY Growth Hub employs two dedicated Visitor Economy Business Advisors that provide specialist one-to-one advice to leisure, retail and hospitality firms across the Humber region.
THRIVE workshops ran in both Driffield and Cottingham in autumn 2022 and attracted over 50 businesses whilst receiving outstanding feedback from delegates.
HEY LEP Growth Hub Manager, Jon Brunton, said: "We've seen how a sharp fall in people's disposable income has directly affected our region's retail, leisure and hospitality firms.
"Whilst trading conditions are likely to be tough throughout 2023, we want to do whatever we can to support our visitor economy sector.
"So, we're pleased to be offering these fully-funded workshops in Hull over the coming weeks.
"Delivered by tourism business expert Susan Briggs from The Tourism Network, all three sessions are ones not to miss for businesses and advanced booking is strongly recommended."
Jo Milnes, owner of West End Farm Cottages in Thornholme, East Yorkshire, who attended the THRIVE workshop programme in Driffield, said: "I attended the workshops in Driffield that Susan delivered on Tourism Marketing.
"I found them really useful for my business. I'm certainly going to implement what I learnt for the coming season to increase bookings and promote my business in a more positive way."
These workshops are delivered by the Growth Hub's #GrowMySME – Business Growth Scheme, and are free to attend, but advanced booking is mandatory. Light refreshments will also be provided.
For more information and to book your place, please visit the Growth Hub's #GrowMySME website here: www.growmysme.co.uk/business-growth-scheme/sector-development/thrive/