The value of digital skills: how a traditional heating company created its own range of connected smart controls
In 2014, after more than 100 years of designing, developing and building gas boilers at its headquarters in Hull, Ideal Heating embarked on its journey to design a wireless and internet-connected room thermostat.
The domestic heating market was changing. Simple, wired, 'on-off' time and temperature controls were losing ground to smarter alternatives that were more stylish, intuitive and easy to use – and that could connect to remote mobile apps and share data around energy use and diagnostics.
Tapping into this effectively would open up a new revenue stream for Ideal, whereby customers could choose a control that was specifically designed to work with their Ideal boiler, to achieve the best home heating experience.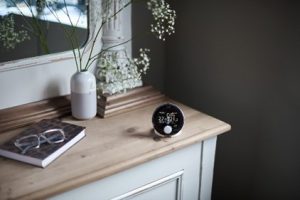 Entering new territory
Dr Elaine Lancaster, chief technical officer at Ideal Heating, said: "When we started the development of our first-generation product range, we had no experience in designing room thermostats or digital communication platforms. Our experience was in gas combustion, heating system hydronics and product design for manufacture. 
"We started out by assembling a small team of existing colleagues from project and product managers, to design and electronics engineers. We engaged with a consortium of external partners to develop initial designs for the product hardware and software, cloud communication protocols and interfaces, and product and mobile display user interfaces."
Procuring the right skills
In 2016, it was time to go up a gear. The team at Ideal engaged with The Centre for Digital Innovation (C4Di) in Hull, whose focus is on helping tech companies grow and traditional businesses innovate.
The C4Di consultants helped Ideal to develop better ways of working for digital projects and methods for articulating customer requirements , increased understanding of cloud protocol and software structures, and more proficiency with agile software development.
This in turn informed the selection and appointment of a new cloud partner, and helped the Ideal team define the digital skills needed internally to underpin their ambitious growth plans.
At the end of 2017, Ideal Heating recruited its first in-house digital skills specialists – a head of internet of things (IoT), a technical manager and a platform architect. And by the end of 2018, the team was seven-strong, and included software developers and test validation engineers.
Agile project management
The appointment of a head of internet of things marked a turning point in the way the project was being managed.
Quite rightly, Ideal Heating's boiler manufacturing processes are governed by 'waterfall' project management, which starts with a detailed specification and includes a finite number of stages to create an end product which meets fits the spec.
But digital projects require more flexibility – so the team working on the thermostat development made the transition to 'agile' project management. Under agile project management, the product is developed in two week 'sprints' and can be taken out and tested at any stage to inform what happens next.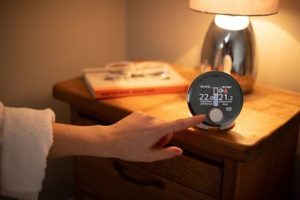 Building relationships locally
After the change of cloud partner and transition to agile project management, another new partner was needed to develop the application programme interfaces (APIs) from the cloud to the mobile app, and to develop the app itself.
Digital software company Sauce had started up at C4Di's tech hub in 2016, and was selected for its expertise and skills, as well as its proximity to Ideal HQ. Dr Lancaster said: "The easy accessibility at that stage of our growth was invaluable. Being a few miles apart meant it was easy to schedule regular sprint sessions and user story reviews."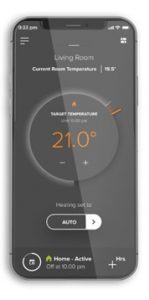 Bringing products to market
In 2019 Ideal set about developing its second-generation product, HALO, taking learnings from a previous control launch and now with a stronger digital skillset within the team.
Sauce created a prototype at the beginning of the product development process to test the transfer of data over a serverless infrastructure, and set up an Ideal cloud in place of the third-party platform that was used for the TOUCH. The Sauce team also helped to create simulations of the thermostat screens to enable extensive user testing – ensuring that the user experience could be refined and perfected.
"The greater level of digital skills competence within our team has underpinned more robust ways of working and delivered improved outcomes this time around," said Ideal Heating's Dr Lancaster. "We now have a product we are truly proud of."
Jim Wardlaw, chief of product and design at Sauce, added: "The world of heating systems has changed dramatically and continues to do so. Customer demand and expectation is higher than it has ever been, with people wanting greater control of their systems in order to suit their lifestyle.
"Working in our agile way as Ideal's long-term digital partner, we are now producing data-led, smart and highly-efficient home heating systems that can be perfectly tailored to customers' requirements."
Long-term skills development
The HALO has already delivered strong results, with thousands of units now being used in homes across the country.
Ideal has ambitious plans to expand the range in 2021, and in line with this, will continue to invest in its IoT team with a view to ultimately bringing its platform technology in house.