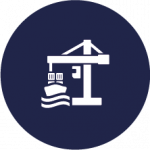 An infrastructure that supports growth
Excellent infrastructure is essential for businesses to grow. We are working with local authorities, Government and the private sector to invest in the Humber's infrastructure to support growth.
Our work in this area is led by our Investment & Regulation Board, chaired by Councillor Stephen Parnaby OBE.
More information on our major infrastructure projects is available in our Growth Deal pages.
Our Single Conversation pilot also helps to smooth the process for major developments around the Humber Estuary.
There are currently no news articles to show.