The region's business community, together with interested residents, are invited to take part in a flagship COP 26 event as the Carbon Battle Bus visits Hull city centre.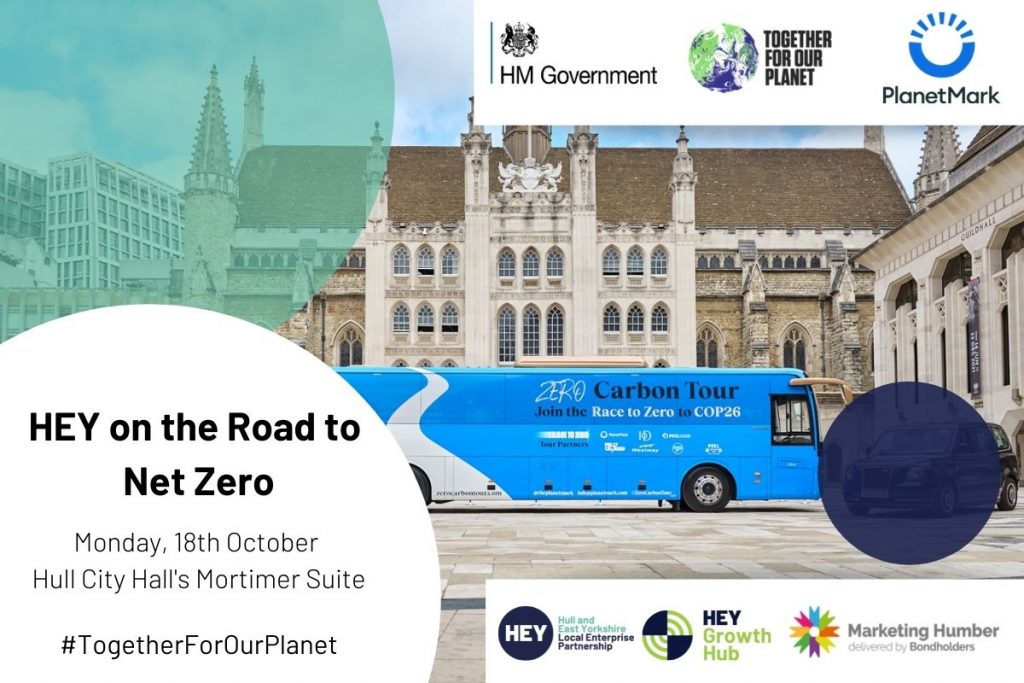 Download the event programme here: HEY on the Road to Net Zero Event Programme
The battle bus, which is travelling the whole of the UK as part of Planet Mark's Zero Carbon Tour, is being brought to the region by the HEY LEP.
This whole day event, taking place on Monday 18 October at the Hull City Hall, will explore many of the topical and practical aspects of net-zero, decarbonisation and sustainability. The event will have limited in-person tickets available but will also be streamed online for those who wish to attend remotely.
The first event of the day will be held by Marketing Humber, who are bringing its opening Waterline Summit 2021 event 'The Waterline – Why the world needs the Humber,' to the Hall's Mortimer Suite.
The Waterline event will see a panel of special guests, featuring nationally known experts, discuss how the Humber region's unique opportunities for environmental change and improvement can have a global influence.
Planet Mark, a sustainability certification for businesses, real estate and products, will then hold events across the day on the main stage, while HEY LEP will also be holding break-out sessions on a number of related subjects, such as how SMEs can become more sustainable and how partnering with nature groups can ensure property developments can be environmentally friendly.
Businesses from across the region will also showcase how they have made or are planning to make important changes to their businesses to embrace climate change and become more sustainable.
There will also be space at the event for networking and to find out more about the different organisations across the region, who can support businesses with their net zero targets.
Book your tickets here: 
In-person booking Eventbrite page – If you'd like to attend the event in-person, please sign up here for your tickets to the full day's programme at Hull City Hall.
Online booking Eventbrite page – Book your tickets here for an online ticket to watch the stream of the live event from Hull City Hall.
For tickets to the Waterline Summit's event 'The Waterline – Why the world needs the Humber,'  please click here. Online and in-person tickets are available.