Written by Gill Dillon, Humber LEP Employment and Skills Board member and Employer and Partnership Manager for Department for Work and Pensions.
The Humber Local Enterprise Partnership is supporting the #ThisAbility campaign in the Humber, a local campaign which is designed to improve employer confidence when supporting or considering recruiting disabled people. The Employment and Skills Team are investing in the disability agenda, as part of the Skills Pledge campaign. The Skills Pledge is signed by volunteer employers in the Humber to invest the future of all Humber residents, ensuring growth and a fully skilled workforce.
Many employers are not aware that 18% of the working age population, equating to 7 million people have some form of disability or have a health condition in the UK. Many of these being highly qualified individuals, whom can contribute to creating a workforce that reflects the diverse range of customers it serves and the community in which it is based.
By building a reputation as a Disability Confident employer that actively seeks out and hires skilled disabled people, businesses assist in positively changing attitudes, behaviours and cultures, not just in their immediate business but in networks, supply chains, and the local communities that surround them.
Of course we recognise that diversity is very important when considering the strengths of individuals who will contribute to team and personal success.  The current and fantastic achievements of Team GB Paralympics team helps demonstrate the contribution that talented people can deliver. For employers this is about considering an individual's ability first, and what they can bring to the workplace rather than focus on the disability. Perhaps, here is where good practice can be followed in helping to create cultural change within all businesses.
The Humber Local Enterprise Partnership, in partnership with local organisations Talent Match Humber (on behalf of Humber Learning Consortium), Peoples Awareness of Disability Discrimination, Mencap, the NHS, Hull and East Riding Clinical Commissioning Groups, and the Department for Work and Pensions have come together to streamline key provisions for business available in the Humber Region, with support from local MP Alan Johnson.
To help employer's understand the issues, the #Thisability partnership, supported by the Big Lottery Fund, has put together a breakfast event. The event will showcase projects and provide information on how each can be tailored to suit business needs. With support from Channel 4 Television, explaining the work they done to champion disabilities and adapt their thinking to take account of 'hidden disabilities'. Chantelle Snee, Development Officer, at Talent Match Humber, said; "The This-Ability initiative has been developed with employers in mind. Through working closely with young people with disabilities it is becoming increasing apparent that the emphasis of support needs to be shifted towards the employer. This-Ability will streamline both local and national support available for local business to help embrace disability and access ability."
We believe that business should be making the most of the talent that exists amongst disabled people in the Humber and this event, supported by the Minister for Disabled People, Penny Mordaunt MP, is designed to encourage employers to understand the business benefits of employing disabled jobseekers and becoming 'Disability Confident'. Disability Confident is the government's national campaign, which offers a range of resources designed to help employers make suitable adjustments to their workplace to enable employees to work within a safe and supportive working environment.
One excellent example of how an organisation took on a person with a disability is Gavin, who started with 'Humber Wood' on a work trial, giving him the opportunity to showcase his strengths. This trial subsequently led to Gavin successfully gaining paid employment.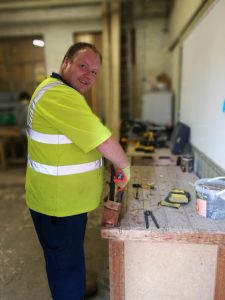 Gavin's learning disability means he struggles with literacy and numeracy. To overcome this Humber Wood have accessed support, making small adjustments including, discussing with Gavin the best ways in which he learns. One such way was using pictures instead of literature within one of their health & safety modules. This simple step has aided Gavin to attain a mandatory health and safety standard required to work at Humber Wood as well as helping him succeed in his role.
'Gavin has an infectious passion and enthusiasm for the work we do, he brings a competency and a reliability we don't always get from others'.
Bob Bunce – Enterprise Manager at Humber Wood Recycling Project